My Experience of India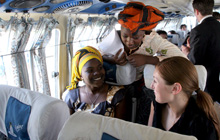 I am Mercy Bisi Olatunji. Traveling to India has been a first time experience. This is the first time I am traveling out of Jos and out of Nigeria.
We have left our home in Jos, Nigeria on Tuesday 20th March 2007 and traveled by bus for almost 13 hours to Lagos. It was indeed a very hectic journey, but also one full of excitement. We spent the night at the ECWA Guest House in Lagos. The following morning we drove to the Murtala Mohamed International Airport in Ilceja, Lagos.
This was my first experience flying in a plane. I was so afraid of flying, having heard so much about plane crashes or air mishaps back home in Nigeria. As the plane increased acceleration and gathered further momentum my fear suddenly turned to joy and excitement as I watched through the window and beheld the great clouds. This actually brought me closer to myself and to my God. I also listened to the rich variety of Ethiopian music in the plane watched different videos.
We arrived Delhi International Airport in the morning of Thursday, from where we were taken straight to the YWCA Family Hostel at Ashoka road, New Delhi, India. We enjoyed a lot of Indian food and music as we awaited the arrival of the American students. The American students arrived on Friday afternoon. We had lunch together at the YWCA and then visited the American Embassy for an audience with Ambassador Mulford, the US Ambassador to India. He was such a frank, nice, sincere and attractive personality in the company of his very beautiful wife. He listened to and responded to a number of questions from us. I was also privileged to ask him a question on what makes him feel happy.
From the US Embassy we were all hosted by a very wonderful and nice Indian friend called Arif. He gave us a lot of food, drinks, and gifts. I met a lot of people of Arif's house and I also took photographs with two of his beautiful daughters. I cherished this experience and will recall this for a very long time.
Today will be traveling by train to Dharamsala where we shall have an audience with His Holiness the Dalai Lama.
-Mercy Bisi Olatunji
---
Creative Capital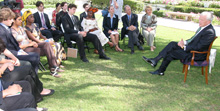 We're leaving the U.S. embassy after a very interesting interview. Ambassador Mulford did his homework and was prepared for us. He was quick to make it clear if he disagreed with anything we said, which was good because it kept us on our feet.
Some of his ideas I found very interesting. One that rang true for me in particular was that creativity is a kind of energy that can be expended and recharged. Ambassador Mulford called it 'capital' and suggested that it is an essential quality for all public servants. As such, public servants should spend time out of office to recharge their creative capital; otherwise their ability to problem solve becomes limited and falls into a state of stagnation. I did have trouble with his ideas about the environment, as he spoke about challenges involving India's reliance on coal, but I don't believe the answers to our global energy crisis lie in non-renewable fuels. In the past, I might have let something like this cloud my overall impression of the ambassador, but I was successful in seeing past this and came out of the interview positive.
Later in the interview, I asked him what advice he had for those of us who were interested in public service. He recommended that we not specialize in political science and not go straight to Washington D.C. to get a permanent job there. This knocked me back a step, as I'd been thinking I might do just that. He advised that those of us who were interested in politics specialize in other areas and work in other fields, so that when the time came we'd have diverse experiences and possess the kind of perspective that is essential to any job in government.
The interview was an overwhelmingly positive experience. Ambassador Mulford was genuine and obviously cares about young people and what we plan to do with our lives after school. Given his vast amount of personal and professional experience, he was willing to talk about just about anything with some authority. I always feel good after meeting with a political leader who has these qualities, as it reaffirms my belief that positive change in the world is possible.
-Daniel Nanas
---
Arif's Feast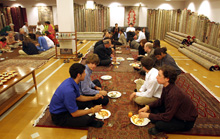 After our interview with Mulford we were graciously invited to a dinner at Arif's house. Arif, a friend of Babaji's, is a very succesful merchant, and he invited us to spend the evening with him in his carpet showroom. It was a truly magical experience to spend a nice meal in the presence of Babaji once again, and to experience Arif's wonderful hospitality. Arif's English was excellent, and he made it a warm and celebratory atmosphere with his staff and family taking very good care of us. After the meal he gave all the students gifts, India key-chains, which cemented the good feelings that were in the room.
-Mark Hansen